I'm three kids in so I feel like now might be an acceptable time to review a few baby, toddler and children's products and even a few parents' products. I'm a disabled mum of three, ages 6.5, 4 and 1 years old.
1. I'll start with nappies as I'm pretty sure most mums and dads will have come across one every now and then with having a baby. My favourite nappies by far are Aldi Mamia nappies. At the moment my 13-month-old son is in size 5 (although he can also fit in a 4+), and you can currently get a pack of 40 nappies for £2.99. For the equivalent of a leading brand, you should expect to pay more than double. You might think 'well lower cost = lower quality', but no. I find Mamia nappies are perfectly soft and comfortable, hold their structure well with minimal sagging after 1 wee. They have good coverage to hold in most normal poo episodes (poopisodes) – I say 'normal' because there are some poo explosions that just won't be contained by a nappy. Never underestimate the force with which a small child can fire their own poo up their back whilst sat down. Mamia nappies are pleasantly decorated, with an array of jungle animals. To be honest none of my three children have ever paid much attention to pictures on nappies, but maybe that's just them. They last a good 12 or more hours of night-time weeing, without leaking and don't create a strong chemical smell when they're very wet. According to Aldi, they are extra soft, breathable, hypo-allergenic and dermatologically tested, and are regularly tested for effectiveness against the leading brand. They are comfy, work really well and don't cost much. Therefore they're winners in my book. A book which doesn't physically exist.
2. Wipes – I probably think about wipes a bit more than is necessary even for a mum with three kids, but I feel it tug right at my heartstrings when they start putting FEWER WIPES PER PACK! Why? A while ago, pretty much all supermarket wipes had 80 per pack, and cost just under £1 for a pack, or £3 something for a pack of 4 – stay with me folks – leading brand wipes had less, either 72 or 64, and then some had 56. That is 24 less wipes than what I would call a normal amount of wipes per pack. I really think too much about this. Anyway, now most supermarket brands have 64 wipes per pack, and then Asda's Little Angels range started producing an 'extra large' pack, with 80 wipes, like it was a new thing to sell 80 wipes per pack. I wish they would just pick a number closer to 100 and stick with it, then we wouldn't have to keep opening new plastic wipes packing every few days, and maybe each pack would last longer.
Favourite wipes – again the prize for my favourite wipes currently goes to Aldi Mamia wipes. Granted they have only 64 wipes per pack, but they are a good price, currently only 55p per pack, or £2.09 for a 4 pack. They are a nice soft texture, don't rip when you take them out of the pack which is convenient although as far as I know, a wipe that rips means it's probably made from renewable/recycled natural fibres like tissues are, and therefore better for the environment than a woven 'cloth-like' wipe. But I'm only a mum guessing, I may be wrong! They have a closing plastic lid, meaning the wipes shouldn't dry out, although personally as my hands don't work very well, I find these more difficult. The sensitive unfragranced wipes are what we usually get but the fragranced packs are also good for when it comes to cleaning hands, or wiping sick off your top in desperation as it masks the aroma a little!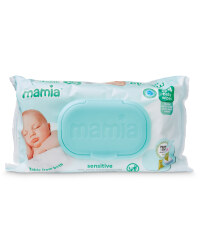 3. Drinking cups – I think over the last few years we may have bought almost every cup going – valved, free-flow, non-spill, straw, 360… my partner thinks I'm slightly crazy as I can't resist a new cup. They are so pretty! But at the moment I am liking the Nuby 360 cup as it's pretty much non-spill, and encourages drinking from the edge of the cup. So it makes for a good transition to drinking out of an open cup.
I have also always been a fan of the standard Tommee Tippee free-flow cup which is great for all ages even young babies of 4-6 months. It's free-flow so babies might get a bit of a shock when the water flows quite freely into their mouth but it teaches them to moderate the flow themselves. This is a good cup for babies who might struggle to suck out of a valved cup. It's also a very good value cup, generally found for less than £2 in a choice of colours. #parenton
4. Potties – when it comes to toilet training, nothing is more exciting than choosing your first potty. For the child I mean, for the child, not me, I don't find it exciting at all. Much. We have had a few over the years but the one I've preferred and which has worked best for our middle child (when we got it) was a potty like this – ours was unbranded from Tesco  and is just plain pink, but has the same 'steady' design and looks comfier than the others we have had. It has grippy feet so won't slide out of the way as your child goes to squat down on it (disastrous), has a broad seat so it doesn't dig into the backs of their little legs and a high back so they are a bit more supported as they sit. I'm sure our boy will use it even though it is pink and that will mean he will turn gay, but nevermind.* This potty only cost around £5 and does a perfectly good job of being a potty. It doesn't sing songs or have a heated seat but our daughter seemed to survive the ordeal of sitting on it.
In my next reviews I will be focusing on clothes and shoes for children!
*Please be assured I am joking.
Instagram @lizzybuntonvlogs